Caddo Nation
The American Indian Cultural Center and Museum
Description
This project was sponsored by "Johnson Fain" an architectural firm in Los Angeles, CA.
In this projects students were asked to design a discovery center housed within the "American Indian Museum and Cultural Center" (a Johnson Fain project) in Oklahoma City. Each Student was tasked to select a tribe from the tribes that were forced to relocate to Oklahoma after the Indian act and research their history and find important cultural elements. Then students were asked to develop a space based on this findings that addressed the given program.
In this project, I chose the Caddo Tribe, native to Piney woods to the East of Texas.
The Caddo are a proud tribe that have kept true to their roots and traditions. Caddo are known as the "Mound Builders" and are considered as one of the first to construct Plazas. They are also remembered for their extensive and complex burial rituals, their living quarters called the "tjeas", their extensive skills in farming corn and their arts and crafts. But perhaps what really makes them unique is the strong influence of dancing in their culture. In the Caddo tribe, dancing is used as a tool of story telling , these stories are often about their history. Unlike other Native American tribes, dancing has let their culture to grow rather than plateauing, so in a sense their culture is moving forward as they make new history every day.
Requirements
The following is the program that students were tasked to design for:
Entry | Reception Area
Lounge
Cafe
Forum (A Story Telling Environment)
Sound Booth (To Record Stories)
Exhibition Galleris (Exhibitions Are Based on The Main Cultural Elements of The Selected Tribes)
Skills
Research
Conceptual Development
Spatial Studies
Space Planning
Form Studies
Product Design
3DS Max
Vray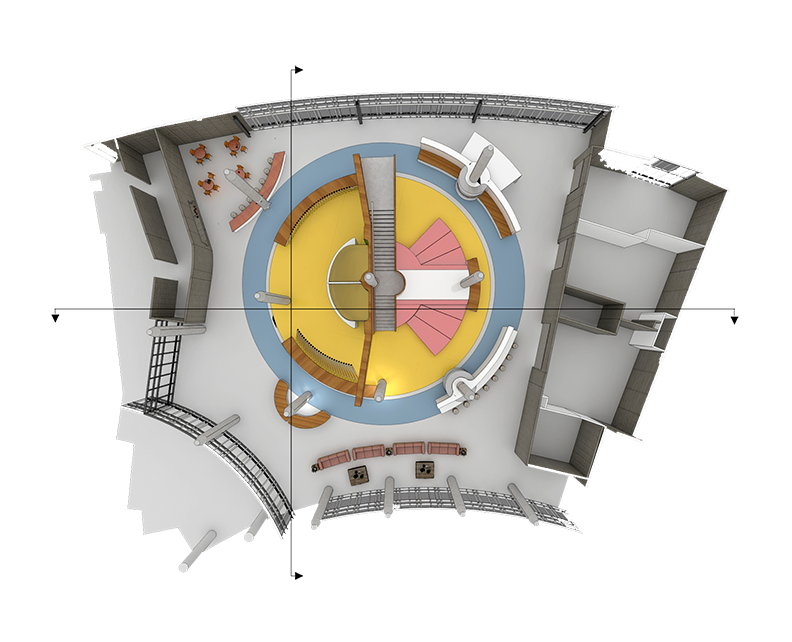 7
Burial Exhibition and Memorial Hall
8
Tejas Exhibition and Tejas Workshop